Top 5 activities to do during the summer in the region Seefeld, Tyrol
A summer holiday in the Austrian Alps is definitely highly recommended. The surroundings are gorgeous with the most beautiful mountain lakes and green alpine meadows. In summer there is plenty to do and discover in the region Seefeld for both young and old. From sports activities to quiet walks through the area. We have selected the best summer activities in the region Seefeld for you. 
Challenging activities
Explore the mountain landscapes
Unique hiking tours
Swimming in nature
Mountain bike routes
# 1 Play golf in the Tyrolean mountains
Golfing at 1,200 meters above sea level, on top of a sunny high plateau in the middle of the region Seefeld in Tyrol, is a favorite activity in the region. Enjoy the fantastic mountain landscape around one of the most beautiful golf areas in the Alpine region. The panoramic view over the peaks of the Karwendel and Wetterstein mountains makes a day of golf unforgettable.
Directly next to the resort is the Seefeld-Reith Golf Club with 9-hole golf courses, a large covered driving area, a golf academy and a restaurant with a sun terrace. This golf club is located close to Lake Wildsee and has a beautiful, panoramic view of the Austrian Alps. You can take different types of golf lessons here, for example for children or private. After a round of golf, enjoy a delicious lunch or dinner at the Golf-in restaurant of the golf club or have a drink on the sun terrace.
Another golf complex that is also located in Seefeld is the Seefeld-Wildmoos golf club. The complex has 18 courses with a challenge for every handicap. Never played golf before? Take a golf lesson at the Seefeld-Wildmoos golf school on site. Single e-carts and electric golf trolleys are available in case you are disabled.
# 2 Swim in Tyrol's pristine swimming lakes
Swimming in mountain lakes in the middle of nature has recently become a real trend, more and more people are swimming at the most beautiful, pristine lakes in different locations. The Tyrol region has several perfect swimming lakes. After swimming in the cold mountain lakes you experience the famous "afterglow", your body starts to glow because it has released a lot of endorphins due to the cold.
The Möserer See near Seefeld is a wonderful swimming lake. This lake is on a great height, at 1292 meters, but is very shallow. The lakes on the Thierberg in Kufsteinerland are a popular destination during summer, with Hechstee being the favorite swimming lake. Längsee attracts many swimmers because it has a unique location, completely hidden in the middle of the woods. Once you have reached the lake you can enjoy a unique experience, swimming in a hidden lake in the middle of the woods.
Many water sports are also offered in Seefeld, as there are several rivers and lakes in the region where you can practice water sports during summer. For example, you can go sailing, windsurfing, rafting or canoeing. At the largest lakes there is often a rental center, here you can rent the equipment and they will explain everything to you.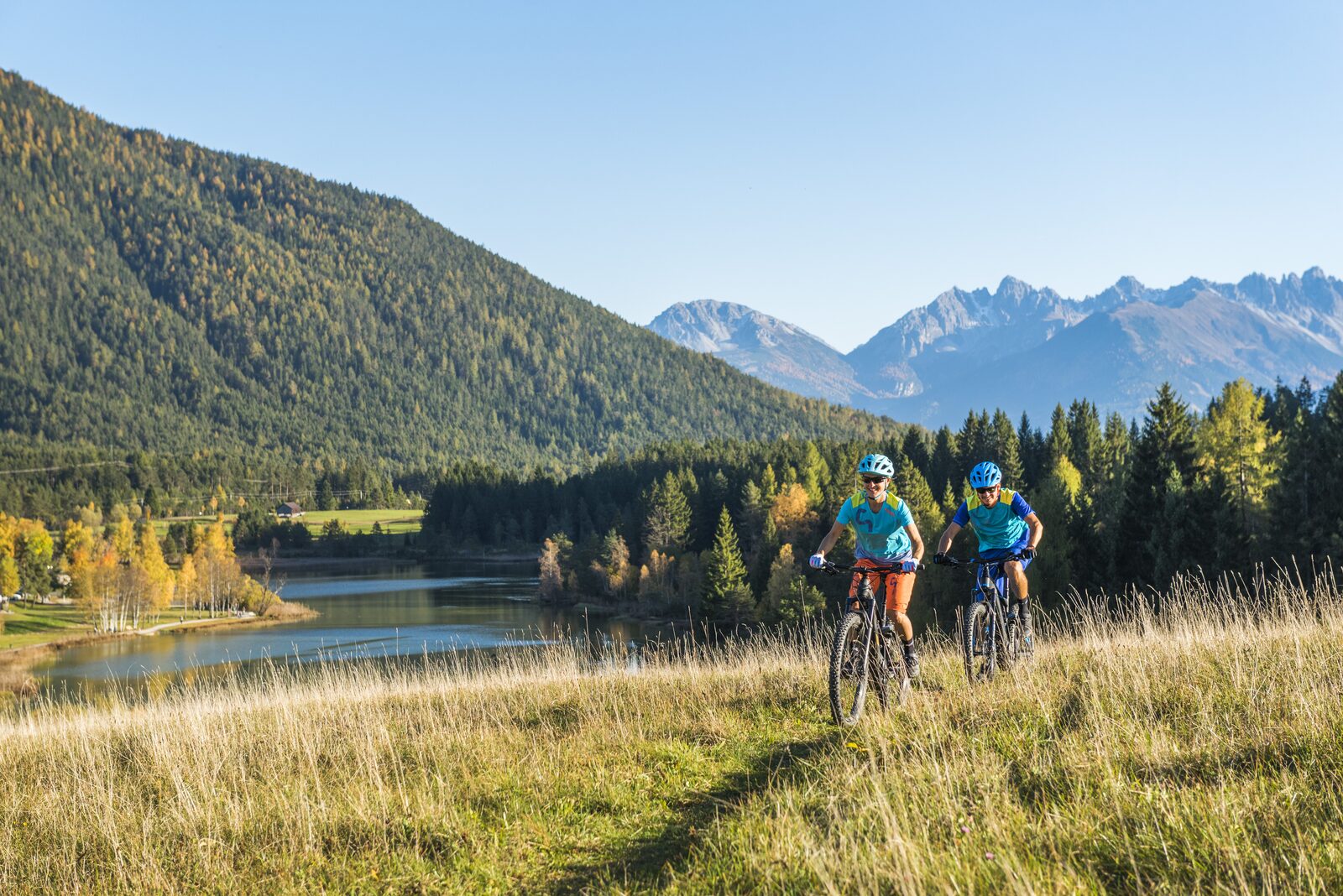 # 3 Mountaineering, bouldering & climbing in the Seefeld area
Austria is perfect for mountaineers because of the mountain landscape and the many possibilities for climbing. In Tyrol itself there are 5,000 alpine climbing routes and 5,100 sports climbing routes alone. From challenging bouldering routes to family climbing parks, there is something for everyone. When climbing, you have to overcome various obstacles and face the challenges. The narrow mountain paths and steep climbing walls provide adventure, excitement and adrenaline.
However, you cannot do mountaineering just like that, for this you need good preparation and a good condition. Not an experienced climber? No problem, there are plenty of other climbing options such as bouldering and climbing in a climbing park. Bouldering is climbing mountains, but without the climbing equipment and climbing gear.
Climbing and scrambling in a climbing and adventure park is also fun for the whole family. There are climbing routes here for all ages. You will receive professional guidance, explanations and climbing equipment at the park and then you can choose a course yourself. Swing between the trees, balance on the high swings and race down ziplines, fun guaranteed! There are several climbing parks in Tyrol, all of which are easily accessible from Seefeld.
# 4 Mountain biking
For an active holiday in the Austrian Alps, you can go mountain biking through the Tirol Hochplateau. Explore the beautiful nature landscape by bike and choose a course that suits your level. There are a total of 570 kilometers of cycling and mountain bike trails in the area, with a course for every level of difficulty. So you can enjoy a challenging mountain bike tour here as a beginner as well as an advanced rider.
The sunny high plateau in Seefeld is a true mountain bike paradise due to the many adventurous routes. They are even known for having the most varied routes in the Austrian Alps. There are many organized mountain bike tours of several days that you can participate in, these have different levels of difficulty.
Another new trend is e-bikes, which are becoming increasingly popular among seniors but also among young people. The e-bikes make it easier and provide support on the more difficult parts. Because the trail runs through the mountains there are occasionally quite steep parts, with an e-bike you will get a little help so you can get up more easily.
Discover the Austrian Alps
# 5 Nordic Walking & Hiking
Another fun activity to do in the region Seefeld during summer is Nordic walking. This is a trend sport that is very populair at the moment. Nordic walking involves walking at a fast pace with adapted ski poles called poles. Nordic walking is also very good for improving your coordination and condition. In Seefeld-Leutasch there are 30 varied routes in three different levels. So there is enough challenge and routes to choose for both recreational and professional walkers. Choose an interval course, an agility trail or a mountain course and at the same time discover the beautiful nature in the area you are walking through. If you have done Nordic walking before, you can join one of the highlights in the region: the Mountainrun Seefeld or the Salomon Zugspitz Ultratrail. These routes require a little more experience and condition, but are definitely recommended to try.
You can of course also just explore the area by walks, you can also choose several hiking routes for this. What is also nice, is a themed walking route. With a theme walking route, you choose a free adventure walking route, which is suitable for young and old. A few examples of a theme walk are a meditation tour, experiencing nature with all your senses or a nature watch walk. A themed walk is a fun and interactive way to discover the area.
Book your stay at the region Seefeld, Tyrol
Where can I climb well during the summer in the region Seefeld?
If you like climbing, the region Seefeld is in the right place, the mountain landscape offers many opportunities for climbing. You can also go to a climbing and adventure park, which is fun for the whole family.
Which mountain lakes are suitable for swimming during the summer in the region Seefeld?
There are several beautiful mountain lakes in the area where you can swim. The mountain lake Längsee, for example, has a unique location in the middle of the woods, which is definitely highly recommended. Afterwards, enjoy the wellness of Oasis Princess Bergfrieden in Seefeld.
Where can I play golf during the summer in the region Seefeld?
You don't have to travel far to play golf, as the Seefeld-Reith golf club is located right next to Oasis Princess Bergfrieden in Seefeld, with 9-hole golf courses and a large covered driving area.
Where can I do mountain biking during the summer in the region Seefeld?
In the region Seefeld there are several mountain bike routes that you can try. Explore the beautiful and varied mountain landscape.